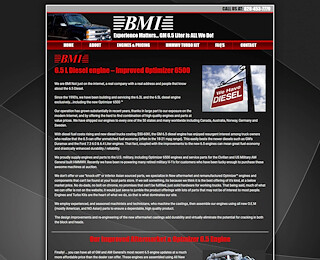 Are you interested in learning more about the 6.5 diesel engine? Bostic Motors has been building and servicing the 6.2L and the 6.5L diesel engine exclusively since the 1990s, so you can be sure their experts know everything there is to know about them.
By offering the combination of high quality engines and parts at exceptional prices, Bostic Motors has grown substantially over the years, allowing them to ship their engines to all 50 states within the US and even worldwide. Considering the fact that the 6.5 diesel engine can offer fuel economy that is virtually unmatched in the industry today (typically 18-21 mpg), with the rising costs of diesel fuel and the price of new trucks skyrocketing, consumers are finding that the 6.5 is an affordable option.
The 6.5 diesel engine offers greater fuel economy than even the newer diesels such as GM's Duramax, considered by many to offer the highest mpg today. Due to recent improvements to the 6.5, great fuel economy and exceptional durability and reliability are easily attainable.
Bostic Motors is a proud supplier of engines and parts to the US Military, including Optimizer engines and service parts for the Civilian and US Military AM General built HMMWV. Bostic Motors is also able to re-power retired military H-1s for customers.
You can rely on Bostic Motors to never offer knock off parts or inferior Asian-sourced parts as they specialize in new aftermarket and remanufactured Optimizer engines and components that are unable to be found in your community parts store. If Bostic Motors sells it, it's due to the fact that they believe it's the best of its kind being offered, at a lower than market price.
Bostic Motors employs experienced and seasoned machinists and technicians who machine their 6.5 diesel engine castings and then assemble their engines using all new OEM parts for a highly dependable, quality product unlike anything else on the market today.
The improved aftermarket and Optimizer 6.5 diesel engine from Boston Motors is much more affordable than any dealer can offer and provides all of the GM and AM General's most recent updates. The all new redesigned heads and block address the previous cracking issues that the original 6.5 GM castings were plagued by. Design improvements eliminate the potential for cracking, for both heads and block. Consider a few of the benefits of purchasing from Bostic Motors:
- Their remanufactured 6.5 diesel engine utilizes genuine AM General 2004 and newer Optimizer military issued block and head casings
- Every engine is hot-run dyno tested before shipping
- OEM and OEM supplier parts are used for all internals
- Bostic Motors never uses Asian parts or components
- No crankshaft cutting ever takes place
- They pay for the return of the core
Find out more about Bostic Motors and about purchasing a new 6.5 liter diesel engine when you visit 6-5liter.com. If you have questions for one of their experts, feel free to call 828-453-7779, where a specialist will be happy to answer your questions.
6.5 Diesel Engine