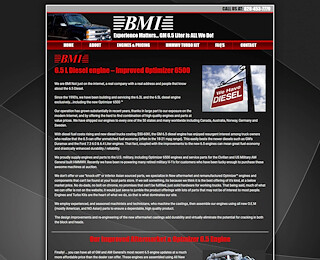 Are you having a hard time finding a 6.5 Marine engine for your application? Don't buy the first one you come across. Check out the newly updated 6.5 liter diesel manufactured by Bostic Motors. They've been building and servicing updated 6.5 engines since the 1990s; if experience makes the difference, you'll find all the difference in the quality of their products.
You'll find, through searching the internet for a 6.5 marine engine that there are many companies out there claiming that they sell the updated 6.5, only to learn that they utilize Chinese components, parts, block and heads- the very major components that have proven to be unreliable in the past. Bostic Motors sells updated 6.5 Marine engines made of all new aftermarket and OEM parts, with redesigned and remanufactured block and heads.
The improvements made to the 6.5 engine offer unequaled fuel economy, even greater than that of the GM Duramax and several of Ford's most noted economic engines. If you're concerned with the rising cost of diesel and the ever-increasing price tag of new trucks rolling off of the assembly line at $50-$60k, you'll want to take a look at what the new and updated 6.5 can do for you. For marine applications, the new 6.5 Marine engine offers unmatched durability and reliability as well.
Placing an order with Bostic Motors is a simple process and involves making a phone call to 828-453-7779 to speak with a knowledgeable expert from their sales department. If you're not quite ready to place an order but just have a few questions, feel free to call. Bostic Motors has replacement engines for any 6.5L diesel or diesel engine application, turbo, non-turbo, van or pickup, Chevy, GMC or Hummer, AM General or for Marine applications.
When calling, state the year, make, model and the 8th character of your VIN number if you're planning to place an order. There is a $500 core deposit that will be refunded when your rebuildable core is received back (provided you are in the US). If your core has deficiencies, they can be pro-rated and may not mean the complete forfeiture of your core deposit. Bostic Motors will pay for your core return as a convenience to you.
Compare Bostic Motors' new 6.5 Marine diesel engine to others. Their long blocks come with already installed valve covers, oil pan, oil pickup tube, timing chain cover and new harmonic balancer. All engines are upgraded to a high volume/ high pressure oil pump to eliminate the oiling issues that were problematic in the past. The old 6.5 TD was in desperate need of a boost of oil to the main bearings; the new pump addresses the issue like no other product.
All moving parts, with the exception of the crankshaft, are new, and are never sourced from Asia. Find out more about the updated 6.5 Marine engine from Bostic Motors by calling 828-453-7779 or by visiting online at 6-5liter.com.
6.5 Marine engine