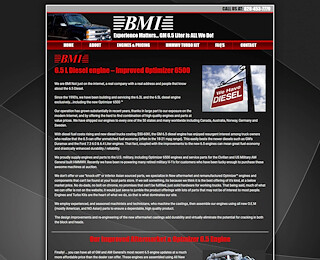 The HMMWV vehicle has a design that allows the transportation of light cargo and personnel. Unlike other Hummer variations, this one does not offer services at the front line of massive operations. This case is because it does not have the proper protection and armor against threats of a biological, radiological, chemical, or nuclear form. The HMMWV will, however, offer protection against small firearms, but not machine guns and rocket-fueled grenades. 
One major drawback of this light-duty Hummer is that it has a three-speed configuration of approximately 55mph. Pushing the engine towards 55mph is a dangerous practice that borders along with mechanical damage. This case is valid for both a new engine and an old engine. 
Upgrading an HMMWV engine
Speed transmission
One way to enhance the original Humvee is by installing a four-speed transmission and replace the old three-speed transmission. Adding an engine with 480LE to a first of the second version of the HMMWV does not involve a lot of complexity. Our firm details the exact specifics of each engine so that one knows how to pick the right one. 
Installing the right HMMWV turbo kit
The HMMWV kit is simple and maintains a high functionality power. Using proprietary parts to get a straightforward installation with little modification will require working on several other features. Our Humvee turbo kit has specially designed components and shapes that allow you to have easy installation and maintain independent suspension. You can expect the following perquisites:
A 50 to 60 increase in horsepower
A torque increase of 100 to 120 ft/lb
Zero effect on the previous performance of fuel
A mechanical turbo design that has a wastegate control
A high flow of cold air that uses the original air intake stack
Boost gauges and an EGT
Full inclusion of all hardware and the installation instructions
Lightweight and rust-resistant aluminum that prevents the problems of conventional steel
Zero modification of the body frame while installing an engine
Helical gear hubs that liken portal axles 
Service
A well-maintained diesel engine can perform twenty-five percent better than the counterpart. Additionally, the diesel engine will have a double lifespan in comparison to the standard gasoline engine. The latest diesel technology in our HMMWV turbo kit will keep your car running efficiently for at least one additional decade. Here are a few helpful tips:
Temperature
Keep your hummer's engine cool by checking and maintaining the coolant's level. Additionally, avoid an acidic coolant, which will slowly eat away at the parts.
Cleanliness
Hummers are heavy-duty vehicles that navigate the dirtiest and dustiest terrains. Consequentially, the engine will collect an indecent amount of dust and grime. Consider changing filters and flushing the parts to prevent rotting, burns, and other inefficiencies. 
Filters
Regular change of the oil filters will keep the parts in their optimum state. The recommendable frequency is after every 10,000 miles.
Oil change
The appropriate time of changing your engine's oil is after every 5000 miles. You may need services that are more frequent if the engine has a high torque towing or lifting capacity.
HMMWV Turbo Kit